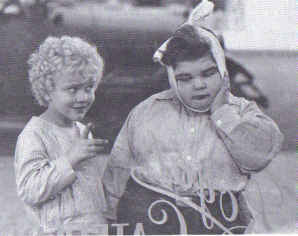 Production Notes
Length: Two Reel
Producer: Hal Roach and Robert F. McGowan
Director: Robert F. McGowan
Photography: Art Lloyd
Editor: Richard Currier
Titles: Reed Heustis
Writer: Robert F. McGowan
Released: February 9, 1929
Studio: M-G-M

Main Cast
Supporting Cast
Edith Fortier - Pedestrian
Fred Holmes - Bald Man
Jack O'Brien - Lemon Vendor
Lyle Tayo - Joe's mother
Michael Mark - Voice Coach
Tenen Holtz - Man With Fiddle (unconfirmed)
Warren Mills - Rupert
The Short
Plot: Joe Cobb is suffering through a toothache as well as having to babysit his little brother Rupert who won't stop crying. Every effort to calm Rupert is undone by an immediate commotion to wake him up. Joe rocks him to sleep, but then the neighbor starts playing his bass fiddle. Joe then rocks the cradle so hard it falls apart, and he trips and stumbles moving Rupert to the baby carriage, which subsequently rolls down hill through traffic with Rupert and a neighbor's monkey enjoying the ride. Meanwhile, the gang comes to help, and as a nearby music lesson gets too loud, Farina lets a mouse go to scare them away from the noise they are making keeping Rupert awake. Joe's mother finally comes home to take over, giving him a dollar to go to the dentist and get the tooth pulled, but Farina convinces him not to waste the money on that and let him pull the tooth. With a string on the aching tooth and the other end tied to Pete, the errant tooth is eventually pulled, but Wheezer gets his hands on the dollar and sells it for a penny, earning him only the frustration of the gang.
Quotes:
"- Don't go near that Painless guy - He'll wreck you! -" Jay R. Smith

Notes/Trivia:
Sequence
---
Community content is available under
CC-BY-SA
unless otherwise noted.