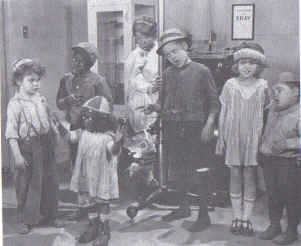 Production Notes
Length: Two Reel
Producer: Hal Roach
Director: Robert F. McGowan
Photography:
Editor:
Titles: H. M. Walker
Writer: Hal Roach
Released: September 3, 1923
Studio: Pathe Exchange

Main Cast
Supporting Cast
The Short
Plot: Mickey is in the hospital getting his tonsils taking out and fighting the nurse trying to give him castor oil. He replaces it with maple syrup, but neglects to change it back when he gets pancakes for breakfast. The rest of the gang is playing football against the Goose Alley Juniors. Mary heads to the hospital to visit Mickey (their team captain) with a basket of candy and fireworks and the rest of the gang tag along. They play football in his room and soon spread their devastation through the hospital by racing around on gurneys, taking x-rays and ruining hospital equipment. Farina has been swallowing pieces of metal from nails and needles to tin and wire. The gang takes his x-ray and wants to operate on him, but they all get dosed on laughing gas and sent moving in slow motion. Ernie grabs some electrodes and gets shocked; the kids linking with him into a long twitching human chain. They quickly get tossed out by the hospital staff. Wanting the free ice cream given to patients at the hospital, the gang offer to take the place of a group of reluctant boys who are to be vaccinated. The doctors and nurses soon catch on and decide to teach the kids a lesson, by prescribing phony cures to fake illnesses they claim the kids have. They try to escape this time, but find themselves getting spooked everywhere they turn. Ernie finds himself up against a skeleton model, while Joe gets a skull model stuck on his head, accidentally scaring Farina. The gang is eventually thrown out a second time. Meanwhile, Mickey tries to avoid getting more castor oil by talking Mary into switching clothes with him. With the doctor approaching Mickey's room, Mickey hurriedly switches back with Mary. The doctor takes notice of Mickey's excited temperature, and prescribes the perfect solution: a dose of castor oil!
Quotes:
Notes/Trivia:
Sequence
---
Community content is available under
CC-BY-SA
unless otherwise noted.