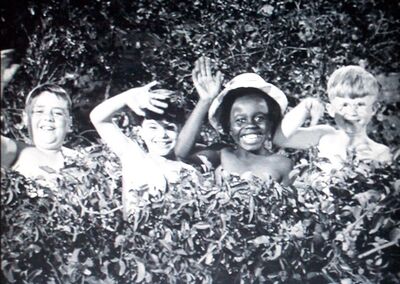 Production Notes
Length: One Reel
Producer: Metro-Goldwyn-Mayer
Director: Herbert Glazer
Photography: Jackson Rose
Editor: Leon Bourgeau
Titles:
Writer: Robert A. McGowan and Hal Law
Released: October 10, 1942
Studio: M-G-M

Main Cast
Supporting Cast
Anne O'Neal - Schoolteacher
Ava Gardner - Movie Cashier
Charles Sullivan - Bus Passenger
George B. French - Movie Patron
Joe Yule Sr. - Movie Patron
John Dilson - Banker Stone (serial character)
Lee Phelps - Police Officer
Robert Emmett O'Connor - Detective King (serial character)
William Tannen - Bus Driver
The Short
Plot: A discourteous motorist splashes Spanky, Buckwheat, Froggy and Mickey with mud on the way to school, so they take a side trip to Froggy's house to get cleaned up. The cleaning formula Froggy mixes up with his chemistry set cleans off the mud but replaces it with a horrible stench that makes them extremely unpopular. They realize the odoriferous stink immediately, but they just decide everyone will get used to it. This conclusion does not bode well. It keeps them off the bus to school, and when they finally arrive, the whole class flees in terror. Their teacher has no choice but to dismiss the class. Spanky and the guys decide to spend their suddenly found free time watching Detective King at the Greenpoint Movie House, but their stink drives out everyone except a guy with a cold keeping him from smelling a thing. Eventually, their stink gets to the actors on screen and they depart as well. The guys are finally escorted off by police officers in gas masks. The whole incident ends with the guys burying their ruined clothes underground.
Quotes:
"Here lie the clothes of Spanky, Mickey, Buckwheat, and Froggy / Don't dig 'em up or you'll get groggy! / We buried 'em well - we buried 'em deep - / So let them rest in their smelly sleep!" - warning sign at conclusion.
 
Notes/Trivia:
Janet Burston doesn't appear in this short.
Maltin and Bann consider this one of the few engaging shorts of the M-G-M years.
This short features movie actress Ava Gardner as a movie cashier. She was married to actor/comedian Mickey Rooney at the time, and Robert Blake recalls that Mickey directed Ava in her brief scene. Mickey's father, Joe Yule Sr., also appears in this short and in Radio Bugs.
Blooper: After the closing music ends, the "The End" title card (with a line drawing of MGM's Leo the Lion reclining in the background) remains on-screen for an additional seven seconds - without any sound and then fades out rather than going out as the music ends.
Sequence
---
Community content is available under
CC-BY-SA
unless otherwise noted.