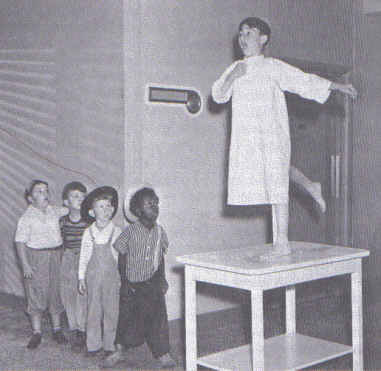 Production Notes
Length: One Reel
Producer: Jack Chertok
Director: George Sidney
Photography:
Editor:
Titles: None
Writer: Carl Dudley and Marty Schwartz
Released: October 15, 1938
Studio: Hal Roach Studios

Main Cast
Supporting Cast
Barbera Bedford - Sonny's Mother
Bess Flowers - Darla's Mother
Don Castle - Hospital Orderly
Jeff Rice - Hospital Orderly
Margaret Burke - Nurse
Mary MacLaren - Nurse
Nell Craig - Nurse
Ray Turner - Elevator Operator
The Short
Plot: Darla is in the hospital recuperating after tonsillitis, and the gang, calling themselves the Third Ward Sunshine Spredders Club, heads to the hospital with a picnic basket to help her get better. While waiting to see her, Alfalfa meets a young opportunist who gives him a dime to switch clothes so he can leave the hospital. Alfalfa takes the dime not realizing the boy he is replacing is actually escaping to avoid a tonsillectomy. An orderly arrives to take Alfalfa to surgery not knowing he has the wrong boy. En route, Junior opens a canister of laughing gas sending them out of the elevator completely disoriented. Under the influence of the gas, Alfalfa yells Tarzan-style while riding standing up on a gurney, hides in a baby's crib, and swings from the chandelier in Darla's room before getting dunked with water and shocked back to reality and he turns to the picnic basket for a snack. When the time comes for Darla to leave the hospital, the others are stuck in the children's wing after getting stomachaches from overeating. Darla promises to visit, but Alfalfa asks that she just bring flowers.
Quotes:
"They must have tooken his brains out." - Spanky

Notes/Trivia:
Leonard Maltin considers this production one of the few good Our Gang shorts from the M-G-M years.

The hospital set is recycled from the "Dr. Kildare" series which also starred Nell Craig.

The title of this short is an homage to the movie "Men In White" by M-G-M also spoofed by The Three Stooges in "Men In Black."

Sequence
---
Community content is available under
CC-BY-SA
unless otherwise noted.