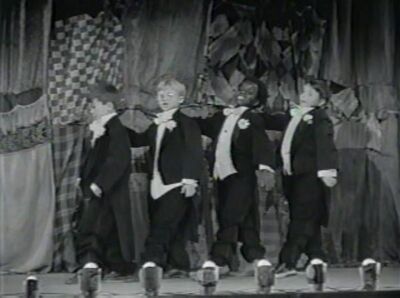 Production Notes
Length: One Reel
Producer:
Director: Edward Cahn
Photography: Jackson Rose
Editor: Leon Bourgeau
Titles: None
Writer: Hal Law and Robert A. McGowan
Released: January 24, 1942
Studio: M-G-M

Main Cast
Supporting Cast
Donna Jean Edmondsen
Darryl Hickman
Eddie Ehrhardt
Lavonne Battle
Patricia Wheeler
Roger Morris
Shirley Jean Doble
Walter Wills - Uncle Walt
The Short
Plot: Spanky and the gang need money to buy new football uniforms, so they go to Froggy's Uncle Walt for help to put on another show to raise the money. The show is a musical revue called "Those Good Old Days" beginning with Janet in a "Grandma Wore A Bustle" number and Spanky, Froggy, Buckwheat and Mickey "singing" various "Songs Of Long Ago," while dressed in ill-fitting suits. Janet narrates the last act of "Dances Of Long Ago." The frenetic performances result in a packed house, but the intake is only $1.28 since Mickey let anyone who didn't have money come in for free. It's not nearly enough to buy the new uniforms so Uncle Walt comes to the rescue and buys the gang the uniforms himself.
Quotes:
Notes/Trivia:
This is the second of three appearances of Walter Wills in the series.

Darryl Hickman is the older brother of Dwayne Hickman, who later appeared on "The Bob Cummings Show" and "The Many Loves of Dobie Gillis."
Sequence
---
Community content is available under
CC-BY-SA
unless otherwise noted.