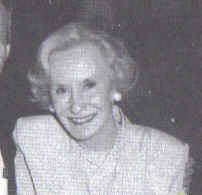 Biography
Character: Mary Ann
Birthday: January 14, 1923
Place of Birth: Los Angeles, California
Date of Death: December 17, 2003
Place of Death: California
First Short: Crazy House
Last Short: Fly My Kite
Number of Shorts: 32
History: Mary Ann Jackson started out in Mack Sennett's Smith Family series before taking her unique look to Our Gang in 1928. During her time, she very much resembled Robert A. McGowan's own daughter. She stayed through to 1931, but she and even her real-life brother Richard stayed on at Hal Roach Studios until 1931, doing extra work and bit parts, even appearing in A Lad An' A Lamp. Although her mother had encouraged her into the business, Mary Ann soon left after getting to make the choice, quickly ridding herself of her trademark haircut. She did star in a few Mickey McGuire features and worked as a stand-in for actress Edith Fellows, who was a very good friend. She tried staying in touch with Robert Hutchins, and eventually married when she reached twenty.
Retired in the San Fernando Valley, she too dealt with her own Our Gang impersonators. She recalled her entire experience as a lot of fun. She died of a heart attack in 2003. Her death was not announced until 2005.
List of Shorts
Other Projects
---
Community content is available under
CC-BY-SA
unless otherwise noted.