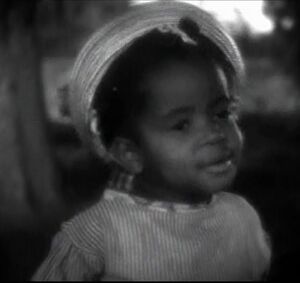 Bio
Marmalade is Stymie Beard's little sister. She was also the first Rascal to be known as "Buckwheat" before losing that name to the boy with that name. In her first appearances, she tags along after Stymie much as Farina once did to Ernie and Pineapple. She stows away in his backpack to Cherry Creek, eating up his food in The First Round-Up and joins up in their adventures to Wally Albright's house in Honky Donkey, listening to Captain Gilbert's old sea stories in Shiver My Timbers and having cake at Dickie Moore's house in Birthday Blues. She's possibly the little sister Stymie is referring to in Spanky who ate the two cans of axle grease, got sick and couldn't play Topsy in Breezy Brisbane's version of Uncle Tom's Cabin.
She also tends to make the same noises, "raspberries," Wheezer used to make, particularly in Readin' And Writin'. Also like Wheezer, she confuses a skunk as a cat and lures it into Adams Street Grammar School.
Marmalade (Buckwheat) was played by Willie Mae Taylor and Carlena Beard. Buckwheat's early female appearances by William Thomas Jr. are possibly the same character.

Shorts
---
Community content is available under
CC-BY-SA
unless otherwise noted.