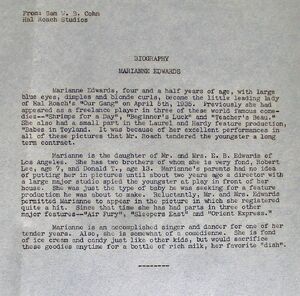 Biography
Character: Marianne, Daisy Dimple and Marianne Jones
Birthday: December 9, 1930
Place of Birth: Los Angeles, California
Date of Death: November 8, 2013
Place of Death: Granada Hills, California (unconfirmed)
First Short: For Pete's Sake
Last Short: The Lucky Corner
Number of Shorts: 7
History: Not much is known about Marianne Edwards. She was the daughter of E. B. Edwards of Los Angeles, California, and she had two older brothers, Robert and Donald. After the 1933 departure of several Rascals, she was hired to play the younger sister to Jackie Lynn Taylor and afterward, the romantic interest of George McFarland as Spanky. If anything, she filled the short opening of the female Rascal between Dorothy DeBorba and Darla Jean Hood. After she left the series, she had a few supporting roles and left acting altogether. She led a normal life and married, later moving to Granada Hills, California, as updated by Maltin and Bann in their book. According to Our Gang historian, Bob Satterfield, she died on November 8, 2013.
List of Shorts
Other Projects
Orient Express (1934) - uncredited
Sleepers East (1934) - uncredited
Babes In Toyland (1934) (uncredited) - with Oliver Hardy, Stan Laurel, Henry Brandon, Scott Beckett, George Billings, Billy Bletcher, Thomas Bupp, Jean Darling, Johnny Downs, Cullen Johnson, Payne Johnson, Richard Jones, Gus Leonard, Sam Lufkin, Jackie Lynn Taylor, and Jerry Tucker
Air Hawks (1935) - uncredited
Jungle Jim (1937) - uncredited
Love Is In The Air (1937) - uncredited
Hollywood Hotel (1937) - uncredited
Little Miss Thoroughbred (1938) - uncredited
---