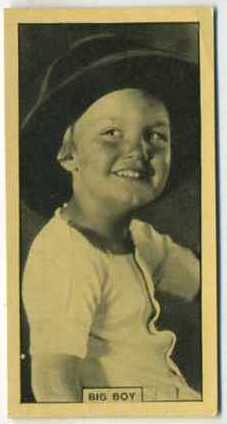 Biography
Character: Malcolm Sebastian
Birthday: November 4, 1923
Place of Birth: Los Angeles, California
Date of Death: July 18, 2006
Place of Death: Oceanside, California
First Short: Shivering Shakespeare
Last Short: Shivering Shakespeare
Number of Shorts: 1
History: Malcolm W. Sabiston, also known as Malcolm Sebastian, was a child actor. His big break in the movies came at the age of only two when he was hired to play "Big Boy" in Jack White's Juvenile Comedies series. "Big Boy" quickly became the breakout star of the series, which was eventually renamed Big Boy. The series ended in 1929, but Sebastian made one more film appearance before retiring. He did return to film acting for a brief appearance in 1947's That's My Gal, but otherwise had finished acting.
He died on July 18, 2006 in Oceanside, California.
List of Shorts
Other Projects
Three Weeks (1924)
Big Boy series (originally the Juvenile Comedies) (1925-1929) - with Jack McHugh and Harry Spear.
That's My Gal (1947)
Community content is available under
CC-BY-SA
unless otherwise noted.