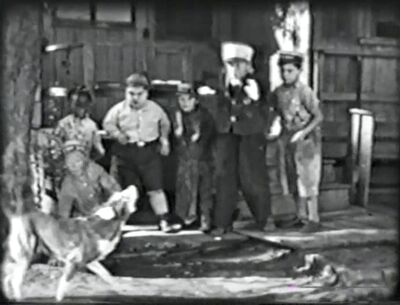 Production Notes
Length: Two Reel
Producer: Hal Roach
Director: Robert F. McGowan
Photography: Art Lloyd
Editor: Richard Currier
Titles: H. M. Walker
Writer: Hal Roach
Released: April 17, 1927
Studio: Pathe Exchange

Main Cast
Supporting Cast
The Short
Plot: Farina Hoskins discovers a stray dog. Joe Cobb suggests that he and Farina take the dog to the gang's dog show. In the middle of the show, the dogcatchers crack down on picking up all unlicensed strays to control a hydrophobia epidemic; the injection to control the disease costs five dollars. The gang tries disguising their dogs as other animals; Jackie masquerades his as a cow, and Scooter makes Buster over as a goat. Jay disguises Buck as a bear, while Bonedust stuffs his dog down his pants. Joe and Farina manage to confound the dogcatchers to free the gang's pets. Farina's dog (whom he has named 'Oleander') gets nabbed in the melee, right after he rescues Mildred, who has crawled out onto the ledge of a skyscraper after a cat. Farina has one hour to get the money or else his dog will be gassed. He makes the money by collecting two bits every time he lets a rich kid punch him. He stands up pretty well to the abuse, and is helped out as the rest of the gang join in. Once he has the money, he races to the Greenpoint Dog Pound to save his dog, but it's apparently too late; his dog has just been gassed. However, Oleander remains alive because he blocked the gas pipe with his tail.
Quotes:
Notes/Trivia:
Sequence
---
Community content is available under
CC-BY-SA
unless otherwise noted.