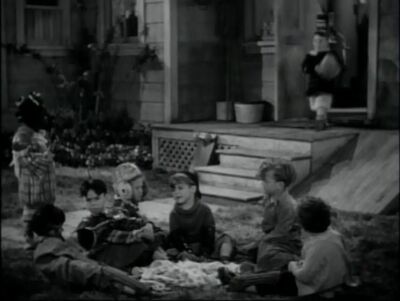 Production Notes
Length: Two Reel
Producer: Hal Roach
Director: Gus Meins
Photography: Harry Forbes
Editor: Louis McManus
Titles:
Writer: Hal Roach
Released: September 21, 1935
Studio: M-G-M

Main Cast
Supporting Cast
Eva Lee Kuney - Stand-in for Patsy Mae Dittemore (unconfirmed)
Ruth Hiatt - Spanky's Mother
The Short
Plot: Spanky, Scotty, Alfalfa and the gang all have plans to play football, but Spanky's mother puts the kibosh on his plans by having him mind Baby Patsy, adding that he can go play if she goes to sleep. Eager to expedite the process, Spanky quickly tries tiring her out by walking her back and forth, but she's merely loving the attention. Alfalfa suggests making her warm milk by creating a fire under a chair, but they just create a small bonfire with Buckwheat nearby lightly fanning it. After Patsy gets wet in the duck pond, they have to redress her, pretending to go to sleep to get her to nap, which seems to work except for Spanky and Alfalfa tying their shoes together and making a clatter which wakes Patsy. They get her back to sleep, Spanky escaping by cutting himself out of his sweater. After Alfalfa briefly gets stuck in the closet, the boys are ready to join the gang waiting outside, but Alfalfa left the football inside and cuts off the nozzle to free it from Patsy without waking her. Having to reinflate the football, Spanky doesn't notice a seam in it has come undone, and Buckwheat watches as the ball's liner blows up out of it and explodes, waking the baby again as the gang wonders if they'll ever get to play football.
Quotes:
"Everything happens to us!" - Alfalfa

Notes/Trivia:
This short seems to have been derived from the first part of the Laurel & Hardy film, "Their First Mistake."

This short was later remade as Canned Fishing.

In Little Sinner, Spanky gets a little brother, Porky, who if he existed behind the scenes before his first appearance, was probably in pre-school during this short.

Eva Lee Kuney along with later Rascal Priscilla Montgomery were both among the kids who posed as Munchkins in "The Wizard Of Oz" (1937).
Sequence
---
Community content is available under
CC-BY-SA
unless otherwise noted.