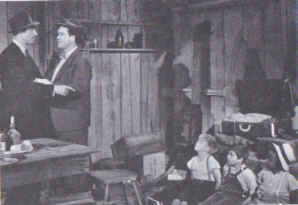 Length: One Reel
Producer: Metro-Goldwyn-Mayer
Director: Herbert Glazer
Photography: Jackson Rose
Editor: Leon Bourgeau
Titles:
Writer: Robert A. McGowan and Hal Law
Released: September 18, 1943
Studio: M-G-M

Main Cast
Supporting Cast
Dick Rich - Pete
Emmett O'Connor - Police Officer
Mark Daniels - Photographer
Norman Willis - Joe the Burglar
Robert Ferrero - Paper Boy
The Short
Plot: The Greenpoint Department Store is staging a murder mystery promotion. They have a display set with dummies and clues with $100 prize money offered to the winner who accurately solves the mystery. With the crowds standing around studying the clues, the Rascals can never get close enough to study the scene so they ask the janitor to let them spend time after hours to study the scene. However, they also over hear him getting over-taken by burglars breaking into the store to rob the safe. They dump his body in the window and capture the gang except for Janet Burston who has hidden herself. She tries to get the police to help, but when they won't take her word for it, she rounds up all the kids to mount a rescue. In the end, it's the police coming to rescue the burglars from the kids.
Quotes:
Notes/Trivia:
Sequence
---
Community content is available under
CC-BY-SA
unless otherwise noted.