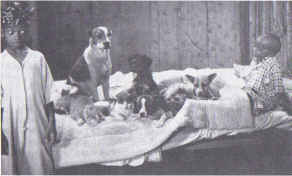 Production Notes
Length: Two Reel
Producer: Robert F. McGowan
Director: Robert F. McGowan
Photography: Art Lloyd
Editor: Richard Currier
Titles: None
Writer: H.M. Walker
Released: March 28, 1931
Studio: M-G-M

Main Cast
Supporting Cast
The Short
Plot: The authorities discover Farina living alone and taking care of Stymie, having been innocently borrowing from the church collection plate to feed themselves. Although they're doing okay on their own, it's decided that Stymie ought to be in the orphanage. Farina decides to throw his friend a going away party with a lot of candy, but by the time the rest of the gang finally arrive, the party treats are all gone. When an orphanage official arrives, the gang unites to protect Stymie, leaving it up to Miss Crabtree to resolve the dispute amicably.
Quotes: None
Notes/Trivia:
Sequence
---
Community content is available under
CC-BY-SA
unless otherwise noted.