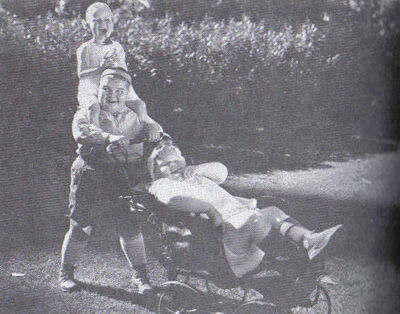 Production Notes
Length: Two Reel
Producer: Hal Roach
Director: Gordon Douglas
Photography: Walter Lunden
Editor: William Ziegler
Titles: None
Writer: Robert F. McGowan
Dialogue: H. M. Walker
Released: August 24, 1929
Studio: Hal Roach Studios

Main Cast
Bobbie Burns
Junior Allen
Supporting Cast
The Short
Plot: Farina is extraordinarily lazy, and tries to avoid all physical activity. He gets his girlfriend Trellis to feed him, do some of his chores around the barnyard, and make him more comfortable in his rocking chair. When she has to leave to play with her little sister, Farina barely takes notice when Joe Cobb comes by and tells him he might win $50 in a cute baby contest. Mary Ann wants to enter Wheezer in the contest but he tells her she is cuckoo. She tells him he is going to be a baby whether he wants to or not. She then gets Jean to help her dress him in baby clothes. Joe even tries to pass off Chubby as a baby to enter the contest. Farina takes it upon himself to dress and bathe his baby brother Thermos but tires himself out so much while trying to fix a very uncooperative baby stroller that he stops to take a nap on the way to the contest. After a while, Joe comes back around to reveal the contest was actually a month ago. Still too lazy to swat away a bee when Trellis reappears, she obligingly whacks him on the nose with a board.
Quotes:
"Yeah, I guess I'll take it ... lay it on that box over yonder." - Farina

Notes/Trivia:
This short is included in the Brentwood Home Video DVD.
This is the last short featuring Joseph Cobb as one of the regular rascals. He returns four years later in Fish Hooky.

The honorable Benjamin Shipman named to judge the contest was named for Ben Shipman, business manager to Hal Roach Studios and later to Laurel and Hardy.
This film was removed from the television package in the 1970's due to the scenes depicting Farina as a stereotypical (and exaggerated) lazy African-American thought to be politically incorrect. It has not been seen on TV since.

Sequence
---
Community content is available under
CC-BY-SA
unless otherwise noted.