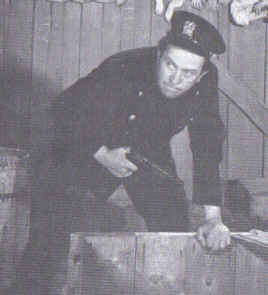 Profile
Name: (Edgar) Kennedy
Nick Name: None
Played By: Edgar Kennedy
Born:
Relatives: Funston Evergreen Kennedy (wife)
Clubs: None
First Short: Moan & Groan, Inc.
Last Short: When The Wind Blows

Character
Bio: Kennedy the Cop was one of a few Greenpoint police officers to actually befriend the rascals after Officer Mac. Although a bit inept in his job, he tried to be a father to the kids to keep them out of trouble. In Moan & Groan, Inc., he tells the kids to stay out of the old house in town and go treasure hunting instead as he did as a boy. However, the kids go treasure hunting in the cellar of the house! In The First Seven Years, Kennedy tries to help Jackie Cooper win the heart of Mary Ann, but when Jackie gets locked out of the house by his brother one night in When The Wind Blows, Kennedy confuses him for a prowler and stalks him through the neighborhood.
Kennedy is married to Funston Evergreen Kennedy, who tries to intoduce culture to the kids through the Golden Age Dramatic League in Shivering Shakespeare. In their play, "The Gladiator's Dilemma," based on the "Quo Vadis" story, Kennedy does the special effects and even plays a few roles, but when the kids start forgetting their lines and improvising, things fall apart.
Quotes:
---
Notes/Trivia
---
Community content is available under
CC-BY-SA
unless otherwise noted.