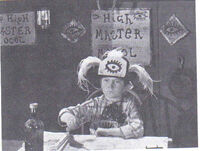 Biography
Character: Breezy Brisbane
Birthday: October 29, 1916
Place of Birth: Butte, Montana
Date of Death: October 15, 1981
Place of Death: China Lake, California
First Short: Readin' And Writin'
Last Short: Birthday Blues
Number of Shorts: 8
History: Kendall McComas was already a veteran of fifty films before he joined the Our Gang series. He had just graduated from Mickey Rooney's "rival" Mickey McGuire series when he was cast in the "tough guy" role left open by the departure of Jackie Cooper. After leaving the series, he later toured on stage as "Baby John" McCormack singing and doing impressions. His later screen work was sparse, achieving only bit parts before he completely dropped from making films. During his life, he never grew taller than five feet and became an electrical engineer at the U.S. Weapons Center in China Lake, California. He was once married, but it ended in divorce. Two weeks before his sixty-fifth birthday and despondent over his forced retirement, he committed suicide in 1981.
According to alternate info on the Wikipedia, Holton, Kansas is given as a separate place of birth for him with Lake Isabella, California as his place of death. This alternate info is possibly incorrect.

List of Shorts
Other Projects
---
Community content is available under
CC-BY-SA
unless otherwise noted.