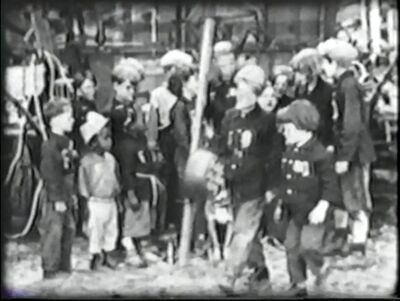 Bio
The Junior Fire Squad is an unofficial extension of the Greenpoint Fire Department. Encouraged by the fire chief, the gang is helped to create their squad in an old barn, possibly the same one from Fire Fighters with a slide from the top floor to the bottom floor and their own fleet featuring a hook-and-ladder truck. However, when a fire starts out in a chemist lab, the Rascals rush out to put it out unaware the lab also holds dynamite and high explosives. They brave the flames to toss out the crates marked "dynamite" in order to put out the fire.

Roll Call: Abie, Billy Naylor, Bonedust Young, Farina Hoskins, Jackie Condon, Jay R. Smith, Joe Cobb, Johnny Downs, Mango, Mary Kornman, Mildred Kornman, Scooter Lowry.
Shorts
---
Community content is available under
CC-BY-SA
unless otherwise noted.