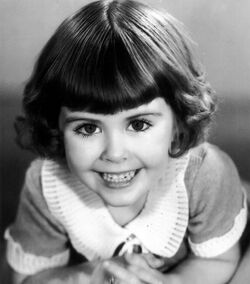 Biography
Character: Sally Stevens
Birthday: June 24, 1931
Place of Birth: Los Angeles, California
Date of Death: October 29, 2017
Place of Death: Sudbury, Massachusetts
First Short: The New Pupil
Last Short: Going To Press
Number of Shorts: 2
History: Juanita Quigley is the sister of actress Rita Quigley. She started out as an extra, later receiving credit under the name "Baby Jane." Her role in the movie "Imitation Of Life" in 1934 made her famous. She eventually obtained a major role in "The Man Who Reclaimed His Head" in 1934 and other popular films. By 1938, she was one of Hollywood's most famous child stars, a career which slowed down by the1940s as she was lent out to star in Our Gang. She starred in the movie, "Devil Doll," the last movie created by horror movie director Rod Browning in 1936, and later appeared with her sister in "Whispering Footsteps" in 1943. She left Hollywood in 1951 and after high school became a Roman Catholic nun in the order of the Daughters of Mary and Joseph, but she renounced her vows to get married. She was last known working at Villanova University. Sadly, she passed away on October 29, 2017 at the age of 86.
List of Shorts
Other Projects
Imitation Of Life (1934)
The Man Who Reclaimed His Head (1934)
The Devil Doll (1936) - with Lionel Barrymore and Maureen O'Sullivan
The Blue Bird (1940) - with Shirley Temple
Bachelor Daddy (1941)
Paper Bullets (1941)
The Vanishing Virginian (1942) - with Frank Morgan, Scott Beckett and Richard Jones
Whispering Footsteps (1943) - with Rita Quigley
The Lady And The Monster (1944)
National Velvet (1944) - with Elizabeth Taylor and Angela Lansbury
Porky's: The Next Day (1983)
---
Community content is available under
CC-BY-SA
unless otherwise noted.