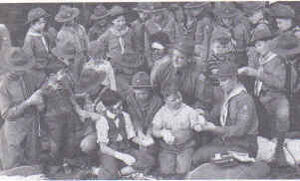 Production Notes
Length: One Reel
Producer: Jack Chertok
Director: Edward Cahn
Photography: Ray June
Editor: Roy Brickner
Titles:
Writer: Robert A. McGowan and Hal Law
Released: June 24, 1939
Studio: M-G-M

Main Cast
Supporting Cast
The Short
Plot: The Rascals try to join a Boy Scout gathering, but the scoutmaster tells them they're too young and sends them home. Spanky decides that no one can keep them from camping anyway so they head off into the woods pitching camp over a geyser. From there, things get worse. Buckwheat and Porky catch an enormous amount of junk before catching a fish. Leonard eats one of Alfalfa's pancakes in which popcorn fell into the batter. Alfalfa then burns the bacon while repeatedly getting smoke blown in his face. Spanky and Alfalfa ruin the fish when they try to cook it. A sudden rainstorm sends them all into their tent (with no door, they crawl under the sides), whereupon the geyser erupts, sending the tent high up in the air like an umbrella wtih Spanky, Alfalfa, Buckewheat, and Porky clinging onto the tent pole. When they come down, they land in poison ivy. It takes the Boy Scouts to come to their rescue with the scoutmaster promising to teach the kids to camp when they get older.

Quotes:
Notes/Trivia:
Sequence
---
Community content is available under
CC-BY-SA
unless otherwise noted.