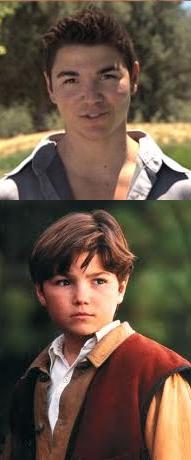 Biography
Character: Jackie
Birthday: November 18, 1986
Place of Birth: Cherokee, California
Date of Death:
Place of Death:
First Short: The Little Rascals
Last Short: The Little Rascals
Number of Shorts: 1
History: Born of Cherokee Ancestry, Joseph Ashton Valencia was one of the uncredited peripheral Little Rascals in The Little Rascals feature film; both of his parents have Cherokee ancestors. His father is a California Highway Patrol officer and his older brother is Mathew Valencia, a voice actor. Resembling Jackie Condon, he wears a black hat, tan sweater and shirt and appears in the back row of the club house scene and shakes hands with Spanky, behind Spanky after their attraction fails to get customers and behind Froggy after Spanky reams Alfalfa for turning traitor to the group. In later scenes, he appears wearing a blue suit to cherr Spanky and Alfalfa for winning the race. After Rascals, her worked for four seasons on the animated series, "Rocket Power" on Nickelodeon and has lent his voice to other animated projects including "Hey Arnold," "Whatever Happened to Robot Jones" and the animated films, "Babes in Toyland" and "Tarzan." He has also guest-starred in several TV series, such as "ER," "Dr. Quinn: Medicine Woman," "Walker - Texas Ranger," "Martial Law," "Cracker" and "Smart Guy."
In high school, Ashton was an honor roll student serving a captain of his club soccer team, a starting player on the varsity soccer team and as a participant in the Olympic Developmental Soccer Team program in England. A graduate of the University of La Verne, he has since majored in both TV and radio broadcasting.
Ashton has teamed up with Endless Entertainment Co., and produces his own films.

List of Shorts
Other Projects
The Education of Little Tree (1997)
Babes in Toyland (1997)
Hey Arnold TV-Series (1998)
Slappy and the Stinkers (1998)
Rocket Power TV-Series (1998)
Tarzan (1999)
Where the Red Fern Grows (2006)
El Tigre: The Adventures of Manny Rivera (2007)
---
Community content is available under
CC-BY-SA
unless otherwise noted.