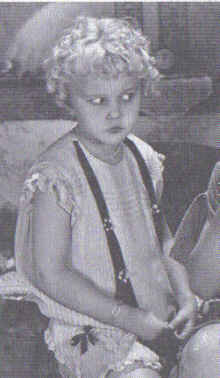 Profile
Name: Jean (Darling) (Cobb) (Condon)
Nickname: "Madmozelle Rhubarba" (briefly, in Barnum & Ringling, Inc.)
Played By: Jean Darling (actress)
Born: 1922
Relatives: Father (deceased), Mother, Stepfather (names unrevealed), Joe, Jackie, Rupert (brothers), Chubby (stepbrother)
Clubs: Manhattan Club
First Short: Seeing The World
Last Short: Bouncing Babies

Character
Bio: Jean is the highly flirtatious little sister of Joe Cobb and possibly of Jackie Condon, seen as Joe's brother in Commencement Day. She becomes friends with Mary Ann and Fire Chief Cummings in Old Gray Hoss and tends to flirt with her brother's friends to get them to do her favors. She makes eyes with Farina in Tired Business Men and with Harry in Wiggle Your Ears. Harry soon considers her his girlfriend, but the relationship isn't all he expects it to be as Jean leads him around serving her. Eventually, even her stepbrother Chubby makes eyes with her and Joe steps up to handle it in Boxing Gloves.
When Jean is not making eyes with the boys, she's getting into mischief like any other little girl. When Joe tries to make himself a cake in Ten Years Old, she tosses a lot of objects into it. She rides in a railroad car with Farina in Fast Freight. She joins Harry and Chubby in costumes to scare Farina in Bouncing Babies. Johnny Downs turns her into a rabbit in Chicken Feed. Of course, the continuity of the shorts at times tends to run askew and reality never stays stable from short to short. There are two other variations of Jean that don't fit with her usual family setting. In Rainy Days, she is the sister of Jay R. Smith and Wheezer. When she gets stuck inside on a rainy day, she and Wheezer draw on the walls and Jay and the gang have to re-paper it. In Crazy House and Barnum & Ringling, Inc., she's the daughter of wealthy parents, once inviting the gang to bust her father's April Fool's Day pranks. She also likes to stick pins in people. It is entirely possible this rich version of Jean is related to the rich version of Joe from Baby Brother.
Quotes:
"When you grow up, you can be my chauffeur." - Jean to Farina
"Heaven sent him - He's all mine!" - Jean to Joe

"Heaven nothin' - Wheezer comes from Goat Alley!" - Joe to Jean in Crazy House

Notes/Trivia
---
Community content is available under
CC-BY-SA
unless otherwise noted.