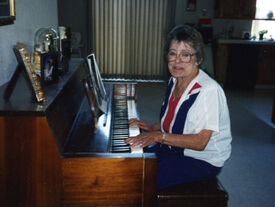 Biography
Character: Janet Burston, Mamie Gubitosi, Mary Swivens and Jeanette
Birthday: January 11, 1935
Place of Birth: Oakland, Los Angeles, California
Date of Death: March 3, 1998
Place of Death: Fresno, California
First Short: All About Hash
Last Short: Tale Of A Dog
Number of Shorts: 16
History: Janet Burston was the M-G-M replacement for Darla Jean Hood when her contract expired, but it is unsure if she was planned to be Darla's replacement since she she was already working on Our Gang at the time, or if she was chosen because she was already on contract. Working as an extra, she had appeared with Darla twice in All About Hash and Waldo's Last Stand and afterward, finished through the rest of the Our Gang series at M-G-M Studios after her departure. In their book, Burston was criticized by Maltin and Bann for being an unconvincing actress and often shouting her lines; it would have been interesting to see how she would have appeared through the magic that was Hal Roach Studios. Janet was the daughter of Lester and Ann Burston, and had two siblings, Jill and Jack, but these names are unconfirmed. She barely worked as an actress after her Rascals work, appearing in two "Blondie" movies and as the younger version of a Shirley Temple character, later leaving acting to become a housewife. Having married four times, she was finally tracked down by a fan in 1995 under the name Janet Foy in Fresno. Of her acting ability, she mentioned that the director encouraged her hammy acting. She passed away in 1998 from cancer, survived by her two children and sister-in-law who recall her as one of the most fun people in their lives.
List of Shorts
Other Projects
Blondie Goes Latin (1941)
Blondie Goes To College (1942)
In The Meantime, Darling (1944) - uncredited
Ginger (1947)
---
Community content is available under
CC-BY-SA
unless otherwise noted.