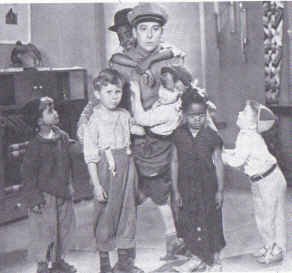 Production Notes
Length: Two Reel
Producer: Hal Roach
Director: Gus Meins
Photography: Francis Corby
Editor: Bert Jordan
Titles:
Writer: Hal Roach
Released: June 2, 1934
Studio: M-G-M

Main Cast
Supporting Cast
Bess Flowers - Maid
Charles McAvoy - Policer Officer
Don Barclay - Barclay
Julia Griffith - Servant
Mickey Daniels (actor) - Algebra (laugh only)
Pete Gordon - Bicycle Rider
William Wagner - Realtor
The Short
Plot: Wally's Mother sends him home with Barclay the chauffeur, but Wally instead convinces him to take a side-trip to pick up the gang. They are found with their donkey-powered merry-go-round on a vacant lot with their donkey, Algebra. The donkey chases anyone who sneezes and can be made to stop by ringing a bell. After the owner of the property chases them off his land, Wally invites the gang to his mansion and the kids pile into the front seat of the open Rolls-Royce with Algebra standing up in the back seat. When they reach the home, Barclay sneezes and Algebra chases the already beleagered chauffeur through the house, upsetting the staff. When mother arrives home, she sneezes, and the mule takes off after her as well and she jumps into a fountain to escape him just as the donkey lets loose with a long squeaking laugh at her expense.
Quotes:
"Thank you, gigantically..." - Barclay

Notes/Trivia:
Actor Don Barclay is a former cartoonist who had worked a year acting at Hal Roach Studios before starring in this short.

The Culver Hotel can be seen in the background as Barclay and Wally are driving through town.

Sequence
---
Community content is available under
CC-BY-SA
unless otherwise noted.