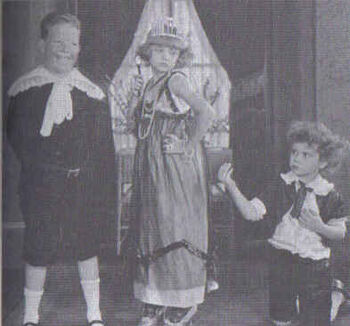 Production Notes
Length: Two Reel
Producer: Hal Roach
Director: Robert F. McGowan
Photography:
Editor:
Titles: H.M. Walker
Writer: Hal Roach
Released: August 24, 1924
Studio: Pathe Exchange

Main Cast
Supporting Cast
Charles Bachman - Police Officer
Jack Gavin - Police Officer
F. F. Guenste - Butler
Pat Kelly - Uncle Pat
Sam Lufkin - Police Officer
The Short
Plot: Mickey lives with his Uncle Pat, and they frequently have corned beef for dinner. The gang meanwhile steals apples from the local merchant by using a funnel and a drainpipe, trying to help out both Mickey and Pat in a kind but misguided way. The police officer who catches them wants to teach them a lesson, but then stops over and shares the corned beef dinner with Pat. Mickey is soon adopted by his Aunt Kate, who tries make him into a little gentleman. She and her butler bathe him down, slick back his hair and put him in a Little Lord Fauntleroy outfit. To make things worse is Mickey's Cousin Percy, who makes Mickey's life even more miserable by antics such as sticking his older cousin with a pin. During a time when Aunt Kate is out, Uncle Pat and the gang pay a visit, and with Pat keeping the butler out of the way, Mickey and the gang have some fun. They ride the dumbwaiter, slide down the banister into cushions, slide on liquid soap over the kitchen floor, and Mary finds her way to Aunt Kate's room and plays dress-up in her dresses and jewelry. Meanwhile, Farina pours a bottle of liquor into the fish bowl and watches the fish get drunk, but not before pouring some more in the parrot's dish. By now, the butler has freed himself, and then calls for the police, but Farina ups the ante by calling both the fire department and an ambulance as well! Aunt Kate returns to discover the house is a total disaster area, and realizes that bringing Mickey to her home was a big mistake. She allows Mickey to return home with Pat and the gang.
Quotes:
"Not naturally mean - he had to practice for three years." - Title Card about Cousin Percy

"Wow! So this is Paris!" - The Parrot
Notes/Trivia:
Mickey's adoption papers in the short include the name of Judge L. A. French, an homage to comedy writer-director Lloyd French.
Playing with a knob that summons the police and fire departments would also occur in Small Talk.
Jackie Condon plays a secondary character, Cousin Percy, instead of his regular character.

Sequence
---
Community content is available under
CC-BY-SA
unless otherwise noted.