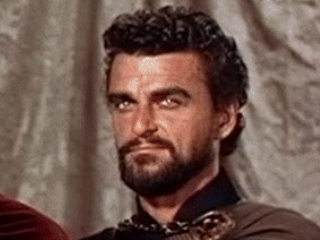 Biography
Character: Opera Impresario
Birthday: June 8, 1912
Place of Birth: Berlin, Germany
Date of Death: February 15, 1990
Place of Death: Los Angeles, California
First Short: Our Gang Follies Of 1938
Last Short: Our Gang Follies Of 1938
Number of Shorts: 1
History: Henry Brandon was an American actor of German descent probably best known for the role of Barnaby in the Laurel and Hardy film, "March of the Wooden Soldiers," later known as "Babes In Toyland."
Born Heinrich von Kleinbach in Berlin, Germany in 1912, Brandon emigrated with his parents to the United States while he was still an infant. He attended Stanford University and trained as a theater actor at the Pasadena Community Playhouse, later performing on Broadway.
His earliest screen roles were as an uncredited extra in "The Sign of the Cross," but his first starring row was as the miser Silas Barnaby in the Stan Laurel and Oliver Hardy classic, "march of the Wooden Soldiers." The role became one of his most famous characters in his career and he changed his name to Henry Brandon. He also played a variant of the role in the Our Gang short "Our Gang Follies of 1938" as the impresario.
Through his career, Brandon played numerous villains in his career. He starred in the films "Beau Geste," "Drums of Fu Manchu" with John Lester Johnson, "Tarzan and the She-Devil," John Ford's "The Searchers" and "Edge of Darkness" with Errol Flynn who he towered over at his 6 foot 4 inch height. He also played Giles de Rais in "Joan of Arc" with Ingrid Bergman. His other films included "Vera Cruz," "Hell's Crossroads" as Jesse James, "Auntie Mame" and "Bourbon Street Beat."
Beginning in the Fifties, he also had appearances on television in the TV shows "Lights Out," "Cavalcade of America," "Robert Montgomery Presents," "Have Gun Will Travel," "Gunsmoke," "Maverick," "The Outer Limits," "F Troop," "Honey West" "Wagon Train", "Lawman", "77 Sunset Strip", "Combat!" and the iconic "Get Smart" and "Kolchak: The Night Stalker" series.
Brandon had a long-time partnership with the actor Mark Herron, probably best known for his role in the MST3k film, "Girl in Gold Boots." Their relationship was interrupted only by Herron's brief marriage with actress Judy Garland of "Wizard of Oz" fame. In his final days, he lived in West Hollywood, passing away on February 15, 1990 of a heart attack at Cedars-Sinai Hospital in Los Angeles, California. He was 77. His body was cremated with his ashes scattered at an unidentified theatre which he had founded.
List of Shorts
Other Projects
Community content is available under
CC-BY-SA
unless otherwise noted.