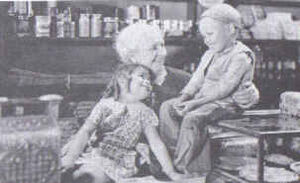 Production Notes
Length: Two Reel
Producer: Robert F. McGowan
Director: Robert F. McGowan
Photography: Art Lloyd
Editor: Ruchard Currier
Titles: None
Writer: Robert F. McGowan
Released: January 3, 1931
Studio: M-G-M

Main Cast
Supporting Cast
The Short
Plot: The gang has been hanging out at the general store which has been owned by Margaret Mack for over twenty-five years, but a local opportunist named Pennypacker is trying to buy it out from under her for far less than it is worth. Meanwhile, two chain store officials are offering her much more, closer to the real price. The kids mistakenly scare off the two men from buying the store while Grandma is out, but they leave a contract offering $3500 for the place. Pennypacker discovers the contract and hides it from the kindly grandma and compels her to sell the place for a paltry $1500. He then imitates her voice over the phone when the chain store officials call to announce their arrival. After several requests from the kids trying to delay for time, Margaret signs the more unscrupulous contract just as the chain store men come with their final offer of $5000 for the location. Pennypacker is ecstatic because he has made the deal of a lifetime, but then one of the chain store representatives notices that Grandma actually signed a blank sheet of paper under the actual contract. Pennypacker's contract is worthless. When Grandma finds out that Pennypacker impersonated her on the phone and tried to swindle her, she punches Pennypacker out and he bounces off the counter toward Wheezer who then bops him one more time with a hammer.
Quotes:
Notes/Trivia:
Sequence
---
Community content is available under
CC-BY-SA
unless otherwise noted.