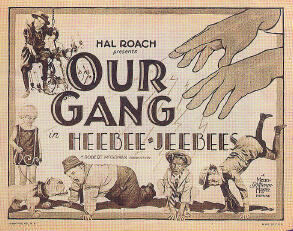 Production Notes
Length: Two Reel
Producer: Robert F. McGowan
Director: Anthony Mack
Photography: Art Lloyd
Editor: Richard Currier
Titles: H. M. Walker
Writer: Hal Roach
Released: November 19, 1927
Studio: M-G-M

Main Cast
Supporting Cast
Charles Bachman - Police Officer
Nanette Fabray (unconfirmed)
Lyle Tayo - Joe's Mother
Bobby Vernon - Professor
Dorothy Vernon - Wheezer's Mother
The Short
Plot: A hypnotist comes to Greenpoint to cast a spell over a police officer and the Rascals, imbuing each of the kids with an animal aspect and getting them to act like dogs, cats, monkeys and donkeys. Even after he takes the spell off, they contiue to revert back into their trances at inopportune moments such as at the afternoon tea of a local society leader.
Quotes:
"Little boys never have to go hunt for trouble - it just naturally follows them around." - Opening Narration

Notes/Trivia:
No known prints of this film exist.

Actress Nanette Fabray's family and publicist have claimed that that she once starred in a Our Gang short. This is the only short where an actress resembling her has been located.
Sequence
---
Community content is available under
CC-BY-SA
unless otherwise noted.