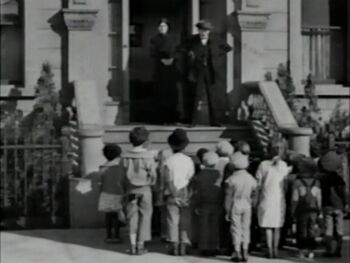 Biography
The Happy Home Orphanage was a local Greenpoint orphanage for kids poorly run and maintained by Mr. and Mrs. Crutch; it was located at 7805 on an unidentified street. The kids here weren't allowed any toys, were kept in cramped quarters and were given a horrible dose of castor oil before bed every night. The sponsor for the orphanage was wealthy and kind Mr. Wade, the father of Mary Wade. When Mary and her boyfriend, Dick, were granted wishes that allowed them to be children, they discovered the horrible conditions of the orphanage and revealed them to her father, who most likely fired the Crutchs and reinstituted a new staff.
The orphans that lived there consisted of kids who resembled or actually were:
Fred Purner Jr.
Gordon Evans
Marialise Gumm
Shorts
---
Community content is available under
CC-BY-SA
unless otherwise noted.