Hallmark Home Entertainment, Artisan Home Entertainment, & Family Home Entertainment Kids are the home video companies known for producing family home entertainment. Originally known as Cabin Fever Entertainment, it was founded in 1979 by Robert Halmi Jr. and Robert Halmi Sr. as Robert Halmi Incorporated (RHI) and merged with Hal Roach Studios in 1988 to form Qintex Entertainment. Hallmark Cards purchased RHI in 1994 and renamed it to Hallmark Entertainment. In 2006, the Halmis, along with affiliates of Kelso & Company, reacquired the company and revived the RHI name. RHI has an extensive library that includes material from its Hallmark Entertainment and Qintex Entertainment predecessors, including most of the classic Hal Roach library (Topper, Laurel and Hardy, etc.), the Lonesome Dove television franchises and the theatrical and home video rights to the 1929-1938 Our Gang/Little Rascals shorts In March 2012, RHI was renamed Sonar Entertainment.
On August 15, 2000, Hallmark re-released the first ten VHS Volumes of The Little Rascals Remastered & Unedited from Cabin Fever Entertainment. The first two volumes were then released on DVD. On February 17, 2004, Hallmark released another DVD, "Little Rascals: Vol 3 & 4" by Artisan Home Entertainment and Family Home Entertainment. On November 15, 2005, Hallmark, in association with Lionsgate Home Entertainment, released on last Rascals DVD, "Little Rascals Collector's Edition: III."
VHS Releases
Cover
Films
Release Date
Volume 1


Fly My Kite
Honky Donkey
Beginner's Luck
Reunion In Rhythm
August 15, 2000
Volume 2


Hook And Ladder
The First Round-Up
Teacher's Beau
Hearts Are Thumps
August 15, 2000
Volume 3


Teacher's Pet
School's Out
Love Business
Spooky Hooky
August 15, 2000
Volume 4


Readin' And Writin'
The Kid From Borneo
Sprucin' Up
Pay As You Exit
August 15, 2000
Volume 5


Bouncing Babies
Pups Is Pups
Dogs Is Dogs
Glove Taps
August 15, 2000
Volume 6


Free Wheeling
Mike Fright
Washee Ironee
Fishy Tales
August 15, 2000
Volume 7


Helping Grandma
Spanky
Little Papa
Two Too Young
August 15, 2000
Volume 8


Shiver My Timbers
Choo-Choo!
Divot Diggers
Bored Of Education
August 15, 2000
Volume 9


When The Wind Blows
The Pooch
Mush And Milk
Framing Youth
August 15, 2000
Volume 10


Birthday Blues
For Pete's Sake!
The Lucky Corner
Arbor Day
August 15, 2000
Volumes 1 - 5
5 VHS set containing the first five volumes.
Volumes 1 - 10
10 VHS set containing the first ten volumes.
DVD Releases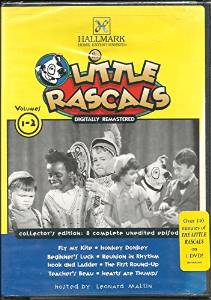 The Little Rascals: Vol 1 & 2 (Artisan Home Entertainment, Hallmark Home Entertainment, & Family Home Entertainment)
The Little Rascals: Vol 3 & 4 (Artisan Home Entertainment, Hallmark Home Entertainment, & Family Home Entertainment)
The Little Rascals Digitally Remastered: Collector's Edition III (Hallmark Entertainment & Lionsgate Home Entertainment)
---