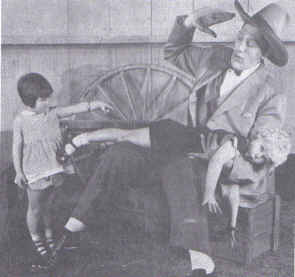 Length: Two Reel
Producer: Robert F. McGowan
Director: Anthony Mack
Photography: Art Lloyd
Editor: Richard Currier
Titles: H. M. Walker
Writer: Robert F. McGowan
Released: September 28, 1928
Studio: M-G-M

Main Cast
Supporting Cast
John Aason - The Circus Giant
The Short
Plot: From Film Daily: "Mary Ann is the pest of the neighborhood. She raises hell with the gang, which finally nabs her and licks her plenty. Wheezer, cutest little fellow, is Mary Ann's choice to defend her honor.Mother has told Mary Ann that if Wheezer takes enough cod liver oil that he will become a giant, so Mary Ann does the trick. In the meantime, a circus giant comes to board, learns the plan and substitutes for Wheezer. From then on, everything happens with the gang finally driving the giant clean out of the neighborhood."
Quotes:
Notes/Trivia:
According to Maltin and Bann, this film was unavailable for viewing.
John Aasen was no circus giant, but he did replace one for the Harold Lloyd film "Why Worry?" which brought him to national attention. He was tracked down especially for this one role. He went on to play bit parts for the studio before dying in 1935 of the illness from his giantism.
 
Sequence
---
Community content is available under
CC-BY-SA
unless otherwise noted.