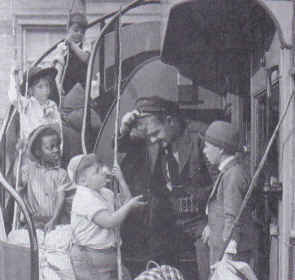 Length: One Reel
Producer: Jack Chertok and Richard Goldstone
Director: Edward Cahn
Photography: Richard Goldstone
Editor: Adrienne Fazan
Titles:
Writer: Robert A. McGowan and Hal Law
Released: October 26, 1940
Studio: M-G-M

Main Cast
Supporting Cast
Anne O'Neal - Female Passenger
Arthur Hoyt - Passenger
Ben Hall - Passenger
Paul Hurst - Bus Conductor
Robert Homans - Police Officer
The Short
Plot: Spanky, Alfalfa, Buckwheat, Mickey and Leonard are up early to catch the bus for the East River to go fishing, but when they board the bus overladen with fishing gear, Mickey can't find their money and they have to get off. That's just when Mickey finds the money in his shoe that doesn't have a hole in it. After a bit of a delay, they find out the bus is heading for the West River, and want to get off. The conductor and a policeman convince them they can do their fishing there, so they prod on, but Spanky loses his pack when the bus stops at the policeman's command because his hat was snagged by a fishhook. The pack lands just in front of the rear bus tire which produces a flat tire when the bus resumes. By time it's fixed, the sun has come up and the boys decide it's too late to go fishing, and they get off the bus. The conductor refuses to refund their fares, but when the boys say they may as well get back on for the ride, the conductor gives back their money and the bus rushes away glad to be rid of them.
Quotes:
Notes/Trivia:
Maltin and Bann called this one of the few worthy shorts of the M-G-M years.

Darla Hood does not appear in this short.

The gag of Mickey using a mousetrap instead of a fishhook had been used before by Farina in Dog Heaven and Bear Shooters.
Sequence
---
Community content is available under
CC-BY-SA
unless otherwise noted.