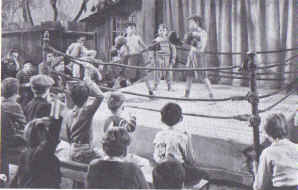 Production Notes
Length: One Reel
Producer: Hal Roach
Director: Gordon Douglas
Photography: Art Lloyd
Editor: William Ziegler
Titles: None
Writer:
Released: February 27, 1937
Studio: M-G-M

Main Cast
Supporting Cast
The Short
Plot: One Friday, there's a new kid in the neighborhood named Butch accompanied by a sidekick called The Woim. He's taking over the neighborhood and instead of beating everyone up, to save time he'll take on the toughest kid on the street. Spanky names their champion as Alfalfa, much to Alfalfa's great surprise. Convinced his buddy will win confidence by fighting Butch, Spanky uses a book, How To Be A Fighter - 10 Easy Lessons to train Alfalfa for the fight, getting him in shape with roadwork, rub-downs and shadow-boxing. Unfortunately, Alfalfa loses to the shadow (actually Porky taking a swing from behind a curtain), and then is knocked out by Buckwheat with one punch in a sparring session in the Ajax Athaletic Club. On Saturday, the day of the big fight, Alfalfa the Oklahoma Wild-Cat (or The Thin Man as referred to by Butch) is set to battle the neighborhood bully. Butch is ready to lay out Alfalfa until the little kids Buckwheat and Porky come to the rescue by knocking Butch out cold from behind the ring, leaving a very stunned and surprised Alfalfa to take credit for winning the day.
Quotes: None
Notes/Trivia:
Sequence
---
Community content is available under
CC-BY-SA
unless otherwise noted.