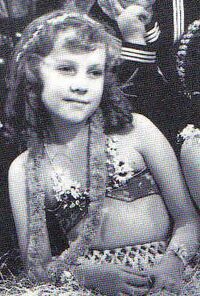 Bio
Gloria Brown is a student at Green Street Grammar School and one of Darla Hood's friends at Dancing School, possibly Mademoiselle Murphy's Dance School. She's possibly one of the girls with Darla at the MacGillicuddy Girls's birthday party, which excludes the boys and spurs the creation of the He-Man Woman-Haters Club. Gloria's dancing talents are seen in quite a number of the kids' performances, from tap dancing to help out Scotty Beckett's Grandpa Gus, a Broadway number with Dickie Jones in a radio show, dancing with Darla in an Arbor Day presentation, appearing with Daniel Boone in Reunion In Rhythm, appearing in Spanky's Our Gang Follies Of 1938 and tap dancing again in Aladdin's Lantern.

Gloria was played by child actress Gloria Browne; her name is misspelled "Brown" by Maltin and Bann.

Shorts
---
Community content is available under
CC-BY-SA
unless otherwise noted.