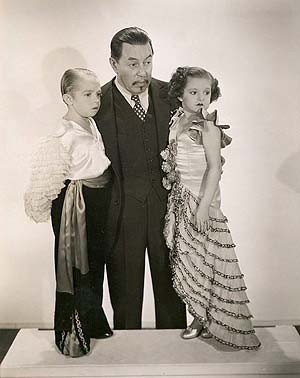 Biography
Character: Dick and Mary Wade
Birthday: December 23, 1911 (George), October 17, 1917 (Olive),
Place of Birth: Madison, New Jersey (George), Old Bridge, New Jersey (Olive),
Date of Death: August 15, 1982 (George), January 25, 1998 (Olive),
Place of Death: South River, New Jersey (George), Lakeland, Florida (Olive),
First Short: Shrimps For A Day
Last Short: (George) Arbor Day, (Olive) Framing Youth,
Number of Shorts: 2
History: Not much is known about George and Olive Brasno. They started out as a brother and sister midget singing team in a partnership with Buster Shaver's vaudeville act. In 1937, they were offered roles in the 1939 film classic known as "The Wizard Of Oz," but they declined because they were making more money on the road with their singing act than they would for the brief role in the movie. The Oz opportunity had offered them seventy-five dollars a week, but she and her brother were making one hundred fifty in their act. Despite turning down the opportunity, they starred in a few movies between public appearances, occasionally playing a married couple. Around 1960 Olive did marry fellow little person Gus Wayne who played a Munchkin Soldier in the "The Wizard Of Oz", possibly after leaving show business. Retiring to Lakeland, Florida, she outlived George by sixteen years and her husband by only two days.
List of Shorts
Other Projects
Sitting Pretty (1933)
The Mighty Barnum (1934)
Charlie Chan At The Circus (1936) - with Keye Luke
Little Miss Broadway (1938) - with Shirley Temple
Carnival (1935) (uncredited)
The Great John L. (1945) (George only)
---
Community content is available under
CC-BY-SA
unless otherwise noted.