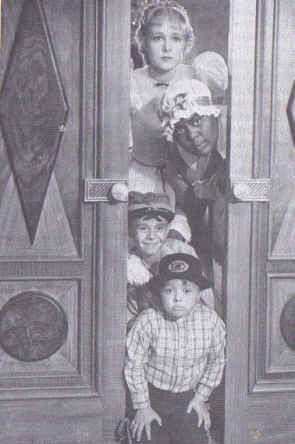 Production Notes
Length: Seventy-One Minutes
Producer: Hal Roach and Sidney Van Keuren
Director: Gordon Doglas and Fred Newmeyer
Photography: Art Lloyd and Walter Lundin
Editor: Ray Snyder
Writer: Unrevealed
Music: Marvin Hatley
Sound Effects: Elmer A. Raguse and William Randall
Special Effects: Roy Seawright
Set Director: Arthur I. Royce and William I. Stevens
Casting: Joe Rivkin
Released: December 11, 1936
Studio: M-G-M

Main Cast
Supporting Cast
The Film
Plot: In a departure to the (then) comtemporary era of the time, Spanky is now an orphan shoeshine boy on a Mississippi riverboat durig the Civil War, and Buckwheat is part of a consignment of slaves who gets lost. The two of them attract the wrath of Simmons, a crooked gambler, and flee to a plantation where Spanky is reunited with Marshall Valiant, an old friend preparing to enter into combat. He leaves Spanky to watch over the plantation and protect the beautiful Louella, so Spanky builds an army of kids to help him defend the plantation from the Yankees. The Union army coming through is being led by Simmons himself, and Spanky's forces launch an impressive defense to the point that Simmons can be turned away and discredited before his superiors. Valiant by now returns after being wounded in battle. Spanky and his forces even make friends with a Northern general.
Quotes: None
Notes/Trivia:
Sequence
---
Community content is available under
CC-BY-SA
unless otherwise noted.