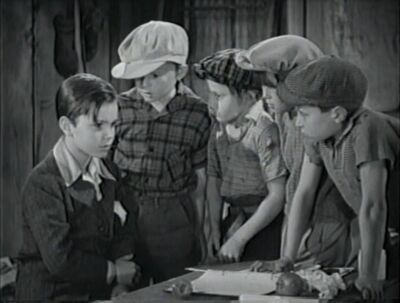 Bio
The Gas House Gang are a band of juvenile delinquents running a protection racket controlled by Frank, also known as "The Boss." The Rascals cover their crimes and bring them down in the Greenpoint Flash. They are not to be confused with the Gas House Kids.
Members
Notes
Two of the unnamed members are Rush and McGuire, but it is not indicated which they are.
Walt Kelly's Our Gang Comics series (1942-1949) featured different members of the Gas House Gang. These included Feeney (the leader), Red, Iggy, and Egghead (a.k.a. 'Eggy'), the latter of whom latter became a member of Our Gang.
Shorts
---
Community content is available under
CC-BY-SA
unless otherwise noted.