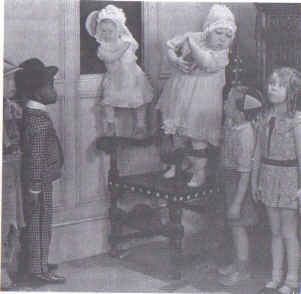 Production Notes
Length: Two Reel
Producer: Robert F. McGowan
Director: Raymond McCarey
Photography: Art Lloyd
Editor: Ruchard Currier
Titles: None
Writer:
Released: February 11, 1932
Studio: M-G-M

Main Cast
Supporting Cast
The Short
Plot: A wealthy Greenpoint debutante decides to throw a party for the children of the neighborhood in order to increase the rating of her husband running for political office. The lawn party proves to be too big to resist for a number of criminals to exploit and burglarize the house. (Their last job was bungled when one of them flicked on the police alarm after confusing it for a light switch). Escaping the detection of a police officer on patrol, they send two diminutive members of the gang to infiltrate the party disguised as babies. The two criminal little people dressed as infants are quickly noticed by Stymie when he overhears them talking, but none of the adults believe his warnings. Wheezer and Echo also learn about the two crooks or "fidgets" heading for the safe and rally the gang to stop them. By now, the gang's hostess and her guests have discovered their missing valuables, and to make things worse, the kids are caught near the opened safe. The chief of detective refuses to believe the gang's story about a couple of "fidgets." At that moment, Stymie sticks a pin into the rear of one of the phony babies, causing it to talk and turn round to punch him before the cops, but not before the police officers present applaud the gang for being heroes and saving the day.
Quotes:
Notes/Trivia:
Sequence
---
Community content is available under
CC-BY-SA
unless otherwise noted.