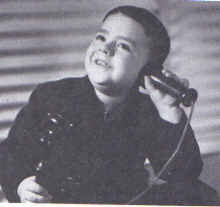 Production Notes
Length: One Reel
Producer: Hal Roach
Director: Gordon Douglas
Photography: Art Lloyd
Editor: William Ziegler
Titles: None
Writer: Unrevealed
Released: September 11, 1937
Studio: M-G-M

Main Cast
Supporting Cast
Ernie Alexander - Usher
Jack Mulhall - Radio Announcer
John Collum - Audience extra
Olive Brasno - "The Ice Cream Song"
The Short
Plot: Spanky has been training Alfalfa for weeks to win a radio talent show. They've converted their clubhouse to a voice studio with everyone playing roles just a few feet from each other. On arrival, Spanky and Alfalfa keeping swapping their name plates so that one is over the other. Butch arrives at this spectacle, getting trapped in the office chain of command before just walking forward and confronting Spanky, threatening him with a beating of Alfalfa makes it to the contest. Butch believes he's a sure winner with his violin, and to save his skin, Spanky convinces Alfalfa that he has lost his voice with the help of a live frog stashed in his muffler. Alfalfa is disheartened, but Spanky won't let him down. He rushes his buddy to the contest just as Butch is nearly declared the winner. The judges will allow Alfalfa as a last minute contestant, but the frog is left in Alfalfa's shirt, adding its croak as an added sound effect to his song, "Just An Echo In The Valley." Spanky, meanwhile, has relinquished himself to his fate, giving Butch two black eyes to his one.
Quotes: None
Notes/Trivia: When the gang listens to the radio, the songs played are recordings of "Honolulu Baby" from Beginner's Luck  and "The Ice Cream Song" by Olive Brasno in Shrimps For A Day.

Sequence
---
Community content is available under
CC-BY-SA
unless otherwise noted.