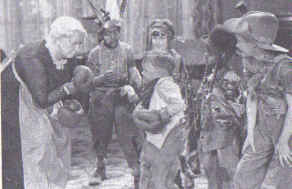 Production Notes
Length: Two Reel
Producer: Robert F. McGowan
Director: Robert F. McGowam
Photography: Art Lloyd
Editor: Richard Currier
Titles: None
Writer: H. M. Walker
Released: May 30, 1931
Studio: M-G-M

Main Cast
Supporting Cast
Broderick O'Farrell - Bond Agent
David Sharpe - Grandma Mack stunt double
James Mason - Dan
Mae Busch - Dan's new wife
The Short
Plot: Grandma Mack has been a loyal parent figure to the Little Rascals for a long time; she spends time reading and playing games with them, but when her son-in-law and his new wife come around, they want to put kind old Grandma Mack in the county home and take over the store. As Dan is nosing around, he discovers a letter from the Imperial Steel Company to his mother-in-law. Apparently, the bonds her husband left her years ago are worth a lot of money, so he ups the chance to cart her off to the County Home. Unfortunately, thinking the bonds are worthless, Grandma Mack has given them to Chubby to tie onto his kite tail. Dan races off to fight Chubby for the kite after breaking Grandma's glasses so she can't read the letter. Fortunately, Stymie notices that the water in a fishbowl makes objects behind it look larger, and Grandma is able to read the letter through the fishbowl and discover that the bonds are now very valuable. She vaults to Chubby's rescue with incredible energy, joining the gang in their role in defeating her villainous son-in-law.
Quotes:
Notes/Trivia:
Sequence
---
Community content is available under
CC-BY-SA
unless otherwise noted.