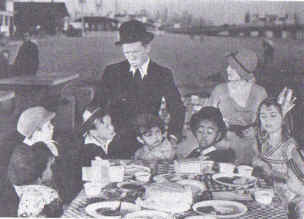 Production Notes
Length: Two Reel
Producer: Hal Roach
Director: Robert F. McGowan
Photography: Art Lloyd
Editor: Richard Currier
Titles:
Writer: Hal Roach
Released: January 28, 1933
Studio: M-G-M

Main Cast
Supporting Cast
The Short
Plot: Dickie Moore, Stymie Beard, Wheezer Hutchins and Uh-Huh Collum would much rather skip school to go fishing with Joe Cobb and Farina Hoskins. Joe offers to write them fake excuse notes, but the new teacher turns out to be Mary Kornman. She's back as their new teacher and has planned a day at Seaside Amusement Park for a first day, but the boys don't realize this until it is too late. Meanwhile, Mickey Daniels is back as the new truant officer and warns the kids how truancy can lead to reform school without revealing who he is, but once the kids see his badge, they make a run for it, leading to a chase that ends up at the beach. Mary gets the boys to promise to never again play hooky and they promise for the moment. Afterward, Mickey back with Mary reminds her of her childhood promise in Circus Fever to marry him since he's always been in love with her. Nearby, Spanky is trying to sleep as Mary coyly resists Mickey until Spanky intercedes and plays Cupid for them both.
Quotes:
Notes/Trivia:
Sequence
---
Community content is available under
CC-BY-SA
unless otherwise noted.