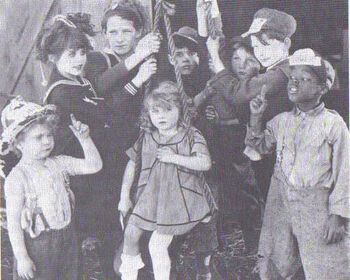 Production Notes
Length: Two Reel
Producer: Hal Roach
Director: Robert F. McGowan, Tom McNamara, and Charles Parrot (supervisor)
Photography:
Editor: Thomas J. Crizer (presumed)
Titles: H.M. Walker and Tom McNamara (illustrator)
Writer: Hal Roach, Robert F. McGowan, Tom McNamara (presumed), Thomas J. Crizer (presumed), and Leo McCarey (presumed).
Released: October 8, 1922
Studio: Pathe Exchange

Main Cast
Betsy Ann Hisle - Mike
Kenneth Johnson
Supporting Cast
Charles Stevenson - Police Officer
Joseph Morrison - Ernie's Father
George Rowe - Bootlegger
The Short
Plot: A flimsy shack holding a moonshine still collapses, and the gang uses the giant boiler tank to form their own fire department. Building a horse-drawn steam-engine truck, a hook-and-ladder truck and a dog-powered vehicle to carry Roosie as the chief, they set up base in an old barn with a lookout as the Goat Alley Fire Department. When the steam from a kettle on a stove looks like fire, they rush out to deal with it, spraying the strange-smelling moonshine on the "fire." A police officer investigates the occurrence just as a cat pulls Roosie's vehicle to meet up with the bootlegger for the officer to arrest. Meanwhile, the other animals having imbibed the funny liquor are running around drunk!
Quotes:
"Booker T. Bacon - Not the worst kid in town - But he's got the opposition scared." - Opening title card

"Roosevelt Pershing Smith. Only two things in the world he's afraid of - One is soap and the other is water." - Title card

"Whar yo' get the tin hat, Roosie?" - Booker T. Bacon

"M'uncle give it to me - For washin' m' face." - Roosie


"I know! This'll make a bully fire engin' - We'll agonize a fire department!" - Booker T. Bacon

"I wanna be Chief - or I won't play." - Roosie

"Aw, let the pony join. There's gonna be fire - We got the matches!" - Booker T. Bacon

"I'm a woman of few words, an' you're gonna hear 'em all!" - Mrs. Quack

"The Gang - Waiting for a chance to start something - a riot preferred." - Opening title card

Notes/Trivia:
Sequence
---
Community content is available under
CC-BY-SA
unless otherwise noted.