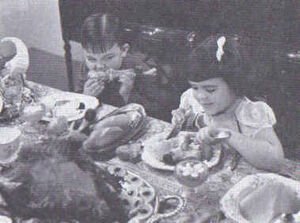 Production Notes
Length: One Reel
Producer: Hal Roach
Director: Gordon Douglas
Photography: Norbert Brodine
Editor: William Ziegler
Titles:
Writer: Hal Roach
Released: May 7, 1938
Studio: M-G-M

Main Cast
Supporting Cast
Johnny Arthur - Darla's Father
Wilma Cox - Darla's Mother
The Short
Plot: It's Mr. Hood's thirty-second birthday, and all he can think of a nice peaceful night at home with his family, but the serenity is broken up by his first spoonful of soup as Alfalfa, Porky and Philip arrive. They sing to him and render gifts of a frog, a duck and a cat, disrupting the dinner and keeping him from getting one taste of his soup. By the time he gets to it, it's cold and has to be reheated. The main course is a roast chicken, but Alfalfa flips a spoon into the gravy bowl and splatters Mr. Hood's suit. He goes to the kitchen to clean up, but the boys (who have already eaten one dinner) and Darla eat the whole chicken before he returns to the table. When it looks like he might get some of his birthday cake, Percy swings by to give Alfalfa a message to head home, taking Mr. Hood's piece of cake with him. This appears to be the last straw as he announces he's going to a restaurant to finally get something to eat.
Quotes:
"All I had for lunch today was a lettuce sandwich on gluten bread." - Mr. Hood
Notes/Trivia:
Sequence
---
Community content is available under
CC-BY-SA
unless otherwise noted.