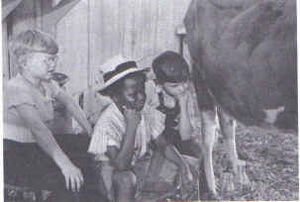 Production Notes
Length: One Reel
Producer: Metro-Goldwyn-Mayer
Director: Herbert Glazer
Photography: Jackson Rose
Editor: Leon Bourgeau
Titles:
Writer: Robert A. McGowan and Hal Law
Released: June 19, 1943
Studio: M-G-M

Main Cast
Supporting Cast
Murray Alper - Mickey's Father
The Short
Plot: Mickey is spending the weekend at his uncle's farm and invites the gang to come along, but pretty soon it becomes obvious these boys are not used to living on a farm. They are awakened at daybreak by a rooster to do chores, the first of which involves milking a cow as they sit by the cow waiting for her to fill up milk bottles. Mickey briefly descends into the well (shades of Sherwood in Dogs Is Dogs ) to retrieve water before feeding the chickens. They think they have to mash the chicken feed to feed the chickens during which Froggy loses some jumping beans into the mixture resulting in jumping chickens. When the mule runs after them, the boys take cover in a haystack if but to get served with it into the baling machine which they somehow survive into square bales of hay. Having had enough, they vanish off into the horizon.
Quotes:
Notes/Trivia:
Janet Burston doesn't appear in this episode.

The hay bale "gag" would be repeated years later and much funnier in the episode, "Jeepers, It's The Creeper" in the first season of Scooby Doo, Where Are You.

Sequence
---
Community content is available under
CC-BY-SA
unless otherwise noted.