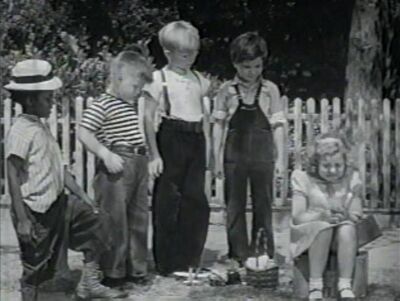 Production Notes
Length: One Reel
Producer: Metro-Goldwyn-Mayer
Director: Herbert Glazer
Photography: Walter Lundin
Editor: Leon Bourgeau
Titles:
Writer: Robert A. McGowan and Hal Law
Released: April 3, 1943
Studio: M-G-M

Main Cast
Supporting Cast
The Short
Plot: Janet has been feeling neglected by her parents and decides to run away from home. The gang decides to get her "adapted" (they mean "adopted") by Mr. and Mrs. Jones in the neighborhood, but the prospective parents decide to just humor the kids along and teach Janet a lesson. They decide to make her home life happier in comparison by having her scrub floors. As Mr. Jones gives Janet's parents the details of what is occurring, Janet escapes with the help of the gang and hides out at their cave hide-out unsure where to go next. The gang eventually convinces her to go home where Janet's mother apologizes for neglecting her, promising to not let it happen again.
Quotes:
Notes/Trivia:
Actor Byron Shoes played Darla's father in Wedding Worries.

Actress Barbara Bedford played mother to Alfalfa in All About Hash as well as in Football Romeo.

This short is credited by Maltin and Bann as one of the "let's-teach-the-kids-a-lesson" shorts which "sealed the lid on the coffin of the series."

Sequence
---
Community content is available under
CC-BY-SA
unless otherwise noted.