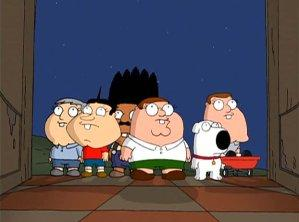 Family Guy is an adult animated television series created by Seth MacFarlane. The series premiered on the Fox Broadcasting Company in 1999, and its more than 200 episodes continue to air on television. The series focuses on the antics of idiotic husband and father Peter Griffin (MacFarlane), feisty wife and mother Lois (Alex Borstein), teenage daughter, sister, and frequent butt-of-the-jokes Meg (Lacey Chabert, and later Mila Kunis), hyperactive teenaged son and brother Chris (Seth Green), sophisticated but fun-loving infant son and brother Stewie (MacFarlane), and talking dog Brian (MacFarlane).

References
Family Guy Viewer Mail # 1, the twenty-first episode of the third season features a Rascals parody titled Lil' Griffins. The story finds five-year-old versions of Peter, Brian, Glen Quagmire (MacFarlane), Cleveland Brown (Mike Henry), Joe Swanson (Patrick Warburton), and Mayor West (Adam West) in a club called the "We Hate Broads Club". Cleveland (who retains his adult moustache) has an unkempt afro, similar to that of Buckwheat's. Brian (who has a ring around his eye as an obvious nod to Pete the Pup) says that "all you need in life are your best pals". "Sure, as long as those pals ain't dames!", Quagmire responds. Cleveland ends the conversation with an "Otay!".

Later, a young Lois joins the kids' school. Both Peter and Quagmire have their eyes on her (upon his first glance at Lois, an Alfalfa-like cowlick pops up in Quagmire's hair). The two decide to prove their bravery to Lois by spending the night in a spooky abandoned house. The boys split up into two teams, with Cleveland and Adam joining Quagmire, and Brian and Joe joining Peter. Both teams stand on each other's shoulders and dress in scary costumes in an attempt to scare the opposing team out of the house. In the end, both teams are scared out by what appears to be a real ghost.

The next day, Lois reveals that Mort Goldman (John G. Brennan) created the ghost as a special effect, and that she would much rather be his girlfriend. After seeing the 'ghost' a second a time, Peter and Quagmire run out of the local malt shop through a glass window, leaving behind outlines of their bodies in the window. "This whole thing shows that women are nothing but trouble", Quagmire complains. "You said it!", Peter adds. "Let's you and me swear off them for good!". "And how!", Quagmire agrees. Thirty five years later, Peter and Quagmire are depicted as millionaires, as their swearing off women prevented them from getting distracted from becoming successful.

Connections
Frank Welker provided voice work for both Family Guy and the animated Little Rascals series.

Community content is available under
CC-BY-SA
unless otherwise noted.