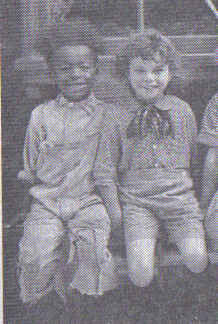 Biography
Character: Pineapple
Birthday: December 25, 1916
Place of Birth: Buffalo, New York
Date of Death: October 25, 2001
Place of Death: Compton, California
First Short: The Mysterious Mystery!
Last Short: Shootin' Injuns
Number of Shorts: 6
History: Eugene Jackson Jr. was already a child actor in Hollywood when he was brought in to replace Ernie Morrison Jr. in the vastly popular Our Gang series. Nicknamed Pineapple because of the uniquely shaped frock of hair on his head, he starred for one year in the shorts and went on to other acting roles. He was the the first African-American child actor to have a speaking part in a major motion picture in "Hearts in Dixie" (1929), and also had a recurring role in Julia, the first television series to star a female African-American lead. One of his last acting roles was as a one-armed musician in "The Addams Family" (1991) alongside Raul Julia, Angelica Huston, Christopher Lloyd and Christina Ricci, another child actor who would go on to great success. He wrote his autobiography in 1999 to celebrate his long film career, He died of a heart attack in 2001 at the age of eighty-four. He is survived by his son, Eugene Jackson III, a camera operator in the television industry.
List of Shorts
Other Projects
---
Community content is available under
CC-BY-SA
unless otherwise noted.