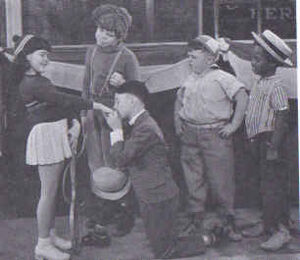 Production Notes
Length: One Reel
Producer: Jack Chertok
Director: George Sidney
Photography: Jackson Rose
Editor:
Titles:
Writer: Robert A. McGowan and Hal Law
Released: March 11, 1939
Studio: M-G-M

Main Cast
Supporting Cast
The Short
Plot: Upset that his youthful sweetheart Darla has once again thrown him over in favor of neighborhood bully, Butch, Alfalfa tries to forget his troubles by watching a sidewalk performance by famed hypnotist Professor William Delmore, a famous hypnotist who arrives to do a show in Greenpoint. When the Rascals go to see his show, Alfalfa volunteers to be hypnotized after confusing the word "skeptical" to mean "timid." Delmore hypnotises him to believe he is D'Artagnan from "The Three Musketeers." Darla just loves the new romantic Alfalfa, especially since he's willing to fight Butch in her honor. Muggsy reminds Darla that Alfalfa could get hurt while thinking he's D'Artagnan. In addition to that, Butch is not really wanting to fight Alfalfa with swords. The two plan to stage a duel with cap pistols and whoever Darla rushes to will be her permanent beau. Darla overhears this plan, so when Butch and Alfalfa drop, she rushes over to and leaves with Waldo instead!
Quotes:
Notes/Trivia:
Sequence
---
Community content is available under
CC-BY-SA
unless otherwise noted.