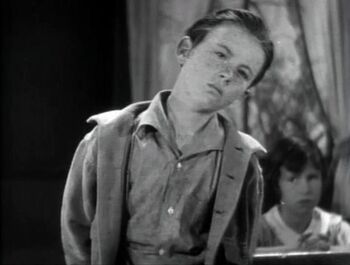 Profile
Name: Douglas Greer
Nicknames: Speck, Turkey Egg
Played By: Douglas Greer
Born: Unrevealed
Relatives: None known
Clubs: Golden Age Dramatic League
First Short: Shivering Shakespeare
Last Short: Birthday Blues

Character
Bio: Douglas Greer is a student at Adams Street Grammar School in Greenpoint in School's Out. His homework answers purchased from Bonedust Young are still being talked about after several years. He's also a member of Mrs. Funston Evergreen Kennedy's Golden Age Dramatic League, where he works the controls, although not particularly well, behind the scenes of the play, The Gladiator's Dilemma.
Douglas is actually the third known Rascal, after Jay R. Smith and Donald Haines, to be called "Speck;" before that, he was called "Turkey Egg" behind the scenes in Shivering Shakespeare. He's a bit of an instigator, having conspired with Bobby Mallon in Spanky to throw rotten fruits and vegetables at Breezy Brisbane's play Uncle Tom's Cabin, later running out for free cash when Spanky starts throwing a stash of hidden money out the window of the McFarland Residence. Douglas is last seen assisting Breezy in his rickety gadget-filled taxi cab in Free Wheeling and having cake at Dickie Moore's house in Birthday Blues.
Quotes: "Mrs. Lincoln." - Douglas Greer answering Miss Crabtree's question, "What was Abraham Lincoln's mother's name?" in School's Out.
Notes/Trivia
---
Community content is available under
CC-BY-SA
unless otherwise noted.