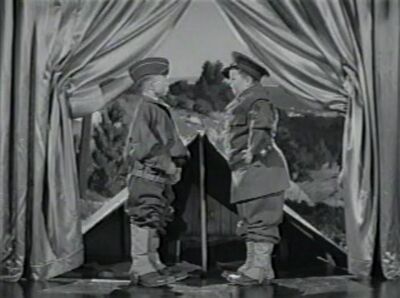 Production Notes
Length: One Reel
Producer: Metro-Goldwyn-Mayer
Director: Herbert Glazer
Photography: Jackson Rose
Editor: Leon Bourgeau
Titles:
Writer: Robert A. McGowan and Hal Law
Released: July 18, 1942
Studio: M-G-M

Main Cast
Supporting Cast
Beverly Hudson - Miss Liberty
Jackie Salling - Unconfirmed
Lawrence Long Jr.
Walter Wills - Uncle Walt
William Finnegan - Conductor
The Short
Plot: Froggy's Uncle Walt overhears the mayor of Greenpoint making a radio speech about the fine work of the USO entertaining troops overseas. He encourages the gang to put on a show for local soldiers stationed in town. The show features tap-dancing boys in uniform, Janet singing "I Love A Man In Uniform" and Spanky and Froggy doing a sketch call "A Day In Camp." It all ends with a patriotic finale called "The Allies On Parade."
Quotes:
Notes/Trivia:
Much like Ye Olde Minstrels, this short has virtually no plot and is basically a pale retread of past much better "show-within-a-show" shorts, such as Our Gang Follies Of 1938.

This was the last of three appearances of Walter Wills as Froggy's Uncle Walt.

Sequence
---
Community content is available under
CC-BY-SA
unless otherwise noted.