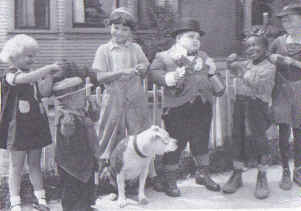 Production Notes
Length: Two Reel
Producer: Robert F. McGowan
Director: Anthony Mack
Photography: Art Lloyd
Editor: Richard Currier
Titles: H. M. Walker
Writer: Robert F. McGowan
Released: December 17, 1927
Studio: M-G-M

Main Cast
Supporting Cast
The Short
Plot: A flirtatious young girl named Clarabelle has been flirting with Joe who sends Pete The Pup away after he snarls at her cat. Joe dresses up to woo the girl, using the money he saved up to get Pete a collar to buy a box of chocolates for her instead. The gang makes fun of his efforts, and Joe and Clarabelle try to hide their intentions, but Joe's suit comes apart and he tumbles into a mud puddle for his efforts. Meanwhile, Pete is heartbroken from Joe neglecting him, drinks down a bottle of booze and tries to hang himself. Although Pete saved the girl from drowning, Joe thinks Pete pushed her into the lake. Pete "tells" this story of woe to another dog, but eventually Joe learns it was another dog who pushed his sweetie and comes back to apologize to Petey and reconcile with a brand new collar as a gift.
Quotes:
"Throw those nasty worms away - They're not refined!" - Clarabelle

"Ah saw him tryin' to commit sideways - We better hurry -" - Farina

Notes/Trivia:
Prop-master Charlie Oelze co-directed this short without credit.

As an adult, Joe Cobb in recalling this short remembered that cast and crew had to get to the park very early in the morning to get ahead of the pedestrians and onlookers who would stop and watch as shooting occurred.

The gag of Farina using a mousetrap instead of a fishhook would be repeated by him in Bear Shooters and by Mickey Gubitosi in Goin' Fishin'.
Sequence
---
Community content is available under
CC-BY-SA
unless otherwise noted.